June 19th. We wake up early, bag was packed and we are on our way. It is a beautiful Sunday morning in New York City. Catch a cab to the Bus Terminal, get the tickets and there is a bus. We didn't have to wait but the bus to my surprise was packed, a very nice gentleman let us have his seat so we can have two seats together. The bus ride was very nice, once you pass all these smelly factories in a Garden State.

We arrive to Atlantic City 2 hours later, to one of the hotels and they give us $50 to play with, that was cool and on the way to catch a cab while trying to find an exit we gamble that money away. Fast and painless!

It was about 7 minute cab ride to the Borgata Hotel. It looked amazing from the outside, but when we walked in, inside was just as grand. First line of the morning, to check in. We wait a while all these bells and whistles sounds come out from the Casino, hmmm amusement park for the biddies. Our turn, we check in and no waiting for the room, it was ready for us. wOOhOO! The concierge gives us our keys to the room on 42nd Floor, (42 is indeed the answer to the ultimate question of life, the universe and everything), there is no wait for the elevator, and it has a TV in it, "Finding Nemo" is playing too cool. We proceed down a very long hall, at the end of it a nice private area, we walk into our room. Oh my, this is just something else, when they say floor to ceiling windows,they don't lie.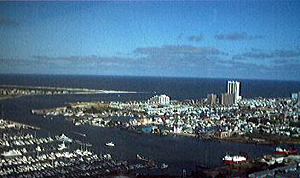 The suite is larger than our whole apartment, it is so comfortable, and just incredibly attractive!

We go downstairs, grab something to eat and a very large beer at the Gypsy bar, look around and locate The Ballroom. Off to gamble a little. Neither one of us are much into it, but little slots never hurt anyone. Got boring really fast, back upstairs to enjoy the view and rest for a bit. It was all so amazing, like a dream, and this is before the show.

It is like time is standing still. Short rest later, back downstairs and back to the slots, boy this was a good idea since I win everything we lost from before and then some! By this time there are a lot more Led Zeppelin, Page-Plant tour t-shirts in the place, and by the time we left the Casino, man oh man. It seems like all of Jersey's Zep community was there. While making our way back upstairs for a minute, it was very difficult to walk through this big crowd.